I don't actively use EOS at all. But I do have it.
Today I opened my eos-voter wallet for the first time in a long time to just check if I could still access funds of a wallet.
As expected eos-voter was outdated so I updated it to a new version called Anchor.
Then I decided to see if I could send 1 EOS to Kraken to see if that still worked.
That's when the trouble began.
I kept running into an error where the transaction wouldn't go through.
I did recently read about an airdrop called EIDOS clogging up the EOS network but because I don't use EOS actively I never thought anything of it.
After some digging, I think I don't have access to enough CPU to do transactions on the EOS network.
The last time I staked EOS was years ago and it's only 2 EOS staked which was enough at the time.
To explain:
Just like on Steem where you need to stake STEEM to have access to Resource Credits to do transactions on the Steem network you need to have some EOS staked to do the transaction on the EOS network.
Here you can see I have 0,00% available CPU.
---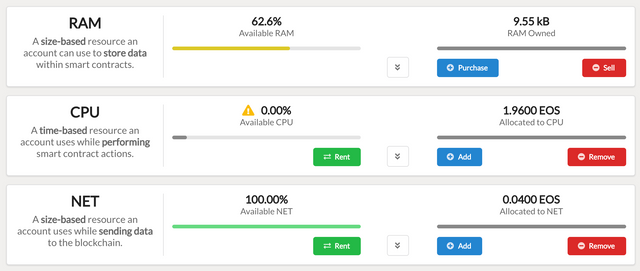 ---
No Problem I though. I will just stake some more EOS and get that CPU number up.
But that's not possible! Unlike Steem where you can stake STEEM even if you don't have anything staked, on EOS you can't do that at the moment as far as I know.
So, my problem now is that I can't stake EOS because I don't have enough CPU to get access to more CPU.
I tried services like https://cpuemergency.com/ that will temporarily delegate you some CPU but I need more than the 3 they offer.
---

---
If anyone knows how I can safely solve this that would be very much appreciated.
I'm not in a rush. But I would like to stake some more EOS under my account so that when I want to transfer in the future it will be possible.
Thanks for any help!
---

---
Please consider us for your witness vote if you think we deserve it here:
---
Vote for @blockbrothers via SteemConnect
Set blockbrothers as your proxy via SteemConnect
---
We are the creators of Steemify a notification app for your Steemit account for iOS.
Get it Here: