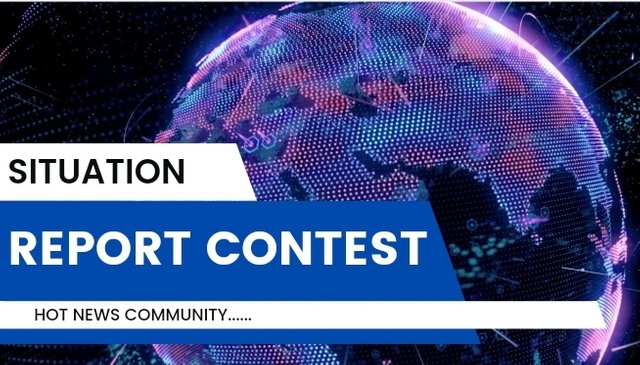 Edited with Canva
On many occasions, we do read news online about some hot happenings in our environment, or we listen to the radio for hot events or happening……
---
These sometimes made us appreciate the work of a journalist, the efforts, and sometimes the risk they had to take in order to provide genuine and live information that could save us from danger, educate us or alert us at the moment and also in the future….
Let's bring that to the blog...!!!
---
I am keen to read about most of these happenings in your various environment. Many good reports can be discovered through this means. I am hungry to read about those situations, who knows…? There might be a solution coming your way. I am sure many other users would be interested to read that too…
---
How to enter this contest
To take part in this contest I am inviting users to write a post about any hot situation of interest or happenings in their local environment.
---
Such information needs to be first-hand and current happening they must be something you have direct, first-hand knowledge about, do not copy News online, I will Know.
---
You can write about any of the following depending on what is going on in your environment:
---
The current weather condition of your environment and how it is affecting the people around you.
Inauguration of Roads, bridges, Stadiums, or any new innovation in your locality.
local festival or cultural event
Any tragic events
Traffic accidents etc.
Use an original owned picture of an event or happening?

Content should be properly Source

Participants must meet the requirements of club5050 #club75 or club100

Post in the Hot News Community Community.

The title of your post should be ... Situation report: Title of the event or situation you want about to report.

All entries should include the tag #news, #mylocalnews, or a tag for your country for example #nigeria, #steemexclusive. These tags should all be in the first five tags.

Plagiarism is not accepted

Put your post link in the comments field below.

Resteem this post so that many other users see it

Invite your friends to join.

Avoid tag Spamming..., do not mention people's names unless users you are inviting to join this contest. If you do, you will be disqualified.
---
---
Note: Please do not use the hashtag solarsteem25pc when you didn't set the beneficiary to the @smilenigeria account.
---
---
Rewards
I will share 6 steem power among the best 3 participants. I will vote on good comments as well.
Content quality will play a major role in selecting the winners, do your very best to stand out.
The contest will run until 11.30 pm UTC on Tuesday 11th October 2022.