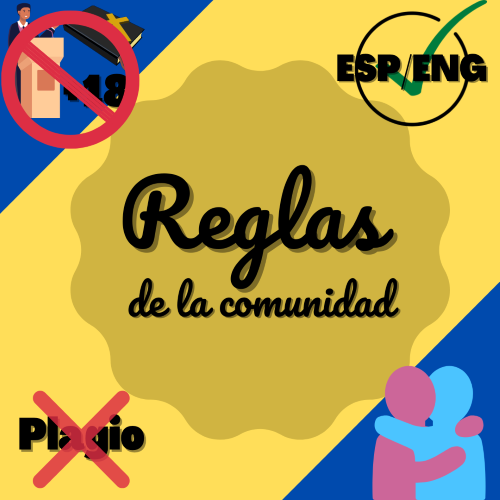 Saludos estimados usuarios, como sabemos estamos en una red descentralizada, pero esto no quiere decir que podemos hacer lo que queramos e infringir reglas y leyes, por tal motivo se hace necesario establecer normas para una mejor convivencia dentro de steemit y a su vez dentro de cada una de las comunidades en la que esta plataforma se subdivide.
Por tal motivo hemos establecido algunas reglas o normas de convivencia para mantener una relacion de respeto y equilibrio en la comunidad.
Los invito a leerlas...

No se acepta el plagio de contenido (sin excepción).
En Colombia-Original aceptamos diferentes tópicos siempre y cuando sean contenido original y de calidad, queremos dejar claro que solo apoyaremos este tipo de contenido.
Evitar temas políticos, religiosos, obscenos o con contenido sexual.
Esta comunidad defiende el derecho de expresión pero preferimos evitar este tipo de tópicos ya que sabemos que crean controversia y confrontaciones, es por esto que pedimos no tratar este tipo de temas en Colombia-Original.
El usuario debe expresarse de forma adecuada, manteniendo un lenguaje basado en el respeto y la tolerancia.
Somos una comunidad empática, con muchas ganas de incluir mas personas, creando un ambiente agradable, inclusivo y positivo, esto es posible si tanto usuarios como moderadores somos respetuosos y tolerantes.
Se aceptan publicaciones en español e ingles.
Colombia-Original esta abierta a recibir publicaciones en ambos idiomas.
NO ETIQUETAR A STEEMCURATOR01 NI A NINGUN CURADOR.
---
Invitamos a todos los usuarios a cumplir y ayudar siendo voceros de estas 5 reglas para que así seamos una comunidad organizada y proactiva.
---
👉ENGLISH👈
---
Greetings dear users, as we know we are in a decentralized network, but this does not mean that we can do what we want and violate rules and laws, for this reason it is necessary to establish rules for a better coexistence within steemit and in turn within each one of the communities in which this platform is subdivided.
For this reason we have established some rules or norms of coexistence to maintain a relationship of respect and balance in the community.
I invite you to read them ...

Plagiarism of content is not accepted (without exception).
In Colombia-Original we accept different topics as long as they are original and quality content, we want to make it clear that we will only support this type of content.
Avoid political, religious, obscene or sexual topics.
This community defends the right of expression but we prefer to avoid this type of topic since we know that it creates controversy and confrontations, that is why we ask not to discuss this type of topic in Colombia-Original.
The user must express himself appropriately, maintaining a language based on respect and tolerance.
We are an empathetic community, eager to include more people, creating a pleasant, inclusive and positive environment, this is possible if both users and moderators are respectful and tolerant.
Publications in Spanish and English are accepted.
Colombia-Original is open to receiving publications in both languages.
DO NOT LABEL STEEMCURATOR01 OR ANY CURATOR.
We invite all users to comply and help by being spokespersons for these 5 rules so that we can be an organized and pro-active community.

EQUIPO DE COLOMBIA-ORIGINAL:
@nahela (Representante de país para Colombia) - Medellín - Colombia.
@josevas217 (moderador de Colombia-Original) - Bogotá - Colombia.
CANAL DE DISCORD:

C.c: