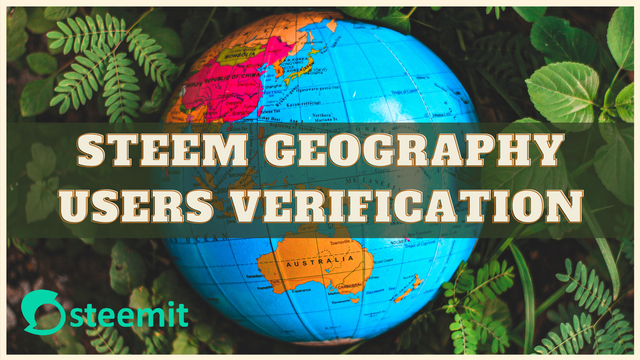 ---
189 Subscribers have been verified on STEEM GEOGRAPHY USERS VERIFICATION - Today, 37 new subscribers verified!
---
My dear Steemit community, almost 2 months ago I started with the new project for people to present themselves in this community with the goal of verifying their accounts, but due to personal reasons that have tight my schedule, I couldn't move on this tasks that I set to myself.
Week by week I'm giving steps forward, and nowadays we have 189 users verified!!
Today they are 37 new users with their corresponding label, and below you can see all the previous reports:
---
---
---
How you'll notice if one user has been verified in Steem Geography Community??
---
They should have the label:
---
Explorer from (the country wherein the steemian belongs)
Ex. "Explorer from Nigeria"
---
Below you can see the list, and as usual, some stats :)
---
List of Steem Geography users verified to July 24th
---
---
Steem Geography Verified Users Chart
---
Having into account the 189 users verified, below you can see the distribution of where are they from. It doesn't matter in general, but due to this is Steem Geography Community, I find it very interesting to analyze.
---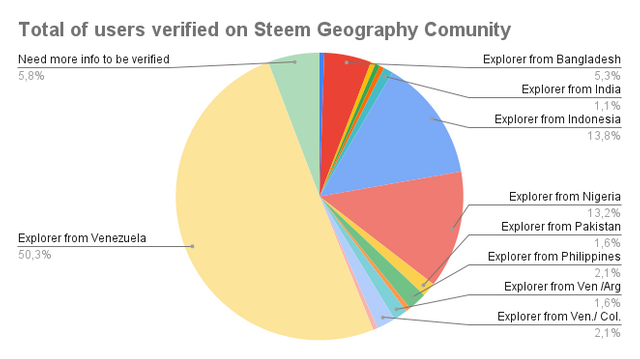 Created on google Sheets.
---

Thanks a lot for being part of this community and for always being excited about the new ideas and contests that I share.
I'll be waiting for you and soon I'll share more verified users that have shared their presentation posts.
Have a wonderful day!
Belén
---
Cc.

---