Hello steemians!

Today we ended week 1 in steem Sri Lanka contest series round 2. You did a great job in organizing a different and interesting contest @sandupi.
I am gonna announce the second contest in contest series round 2. This is the first contest I organize in steemit. So excited!
So here we go....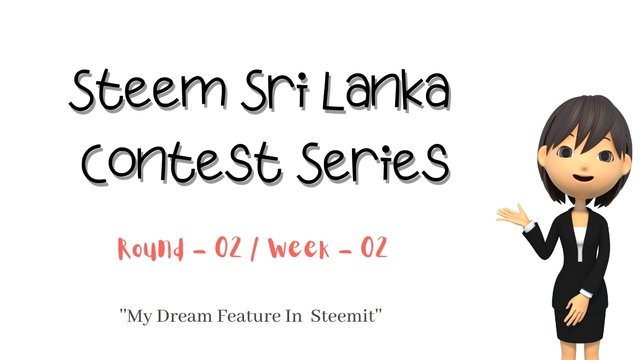 Introduction
We all love steemit. So this time we decided to do something related to steemit. and it is
"My Dream Feature In Steemit"
While working with steemit sometime you may have felt that it's good if steemit have
this feature....
this feature...... So that it will make steemit more user friendly and attractive for you.
So here's your chance to write up your own ideas about what is your dream feature you like to see in steemit, but currently not available. It can be a new text editor, some animations, a clock etc
Convert your ideas into words....

What You Have to Do
Write about the feature you like to see in steemit
Describe the feature
Describe how you came up with this idea
Give reasons why you believe it is important to steemit and advantages
You can add sketches designs as you wish
Rules
Write your own ideas
Any langauge is accepted
Plagiarism is not approved
Use at least 300 words
You can write about only one feature per entry
One submission per person
Make sure to post your entry in Steem Sri Lanka
Mention me @madhumunasinghe so that I can check your post easily.
Title should be My Dream Feature in Steemit| Steem Sri Lanka| Contest Series Round 2| week 2|"your topic"
The post must include #mydreamfeature tag as one of the first five tags - ideally the first one.
The post must also include a # tag to identify your country
Prizes
First Place
-10 steem
Second Place
-8steem
Third Place
- 5 steem
Forth Place
-3steem
Fifth Place
-2 steem
Sixth Place
-2 steem
Seventh Place
-2 steem
And participation prizes!!

Prize update
We are excited to announce new additional prizes for first five places,
from @steemcurator02 (4M SP)...
1st = 50% upvote
2nd= 40% upvote
3rd = 30% upvote
4th = 20% upvote
5th = 10% upvote
These votes will be increased by 10% if the posts are set to Power Up 100% (and they are not powering down at the same time).
@neerajkr03 supported us with 10STEEM so that I'm planning to give participation prizes also and I have increased the prize value.

Judging Criteria
Creative thinking
Value of suggested feature
Presentation
Out of Box Thinking
Let's see how creative our steemians are......
I invite all of you to take part in this contest. We are looking forward to see your creative ideas. Good luck all!
---
Closing date- 5/12/2020, 8.00pm from Sri Lanka Time
I'm so happy to participate in "we love contest" concept of @steemcurator01 and @steemitblog
Thank you!!