Introduction
This is the curator account for the Steem Sri Lanka community. The Steem Sri Lanka community is a growing community that will try to be a self-sustaining community in the future. We hope to help every Sri Lankan Steemit user to get votes according to their quality of the post. We are voting for posts that are posted in the Steem Sri Lanka community or in any other communities by Sri Lankans. We want to gather all Sri Lankans to one place for a bright future.

Week 05: Division of Upvotes
We have curated 118 posts including several posts from other countries within our 05th week. 48 Steemit accounts including all the Srilankan accounts were checked and almost all the posts were curated under #srilanka tag. Mainly we are curating other communities' posts to get attention to our Steem Sri Lanka Community. We have tried to give good votes as much as possible. But due to the high number of Sri Lankan posts within the week, We have to give low percentages also if there are high numbers of posts relevant to a day. But always we consider the quality of the post when we vote. Here are the outgoing votes for last week. We are asking for Sri Lankan members to post their articles including the #srilanka tag among the first five tags. That will be easy to find and to reach your posts without missing.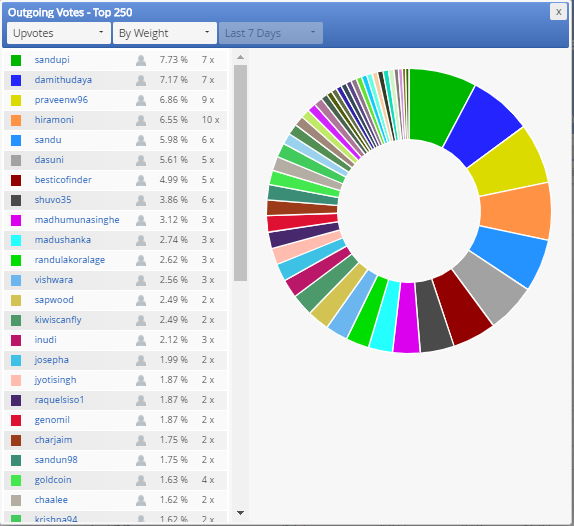 As a special case, we are trying to give good votes for every contest entry post. We welcome you all to participate in our contest series round 2. Contest 02 for Round 02 is already begun. It is related to steemit and Contest hosted by @madhumunasinghe. For now, we have finished seven contests hosted by Steem Sri Lanka Community. In the last week, we had 14 entries. Since that was a new experiment we are happy to see that much of particip[atiion. Thank you very much for the participants.

Delegators
We could increase our Effective power to 17k with our recent generous delegators. Thank you to everyone who has given their delegation to our Community Curator account. Day by day we are trying to be strong. Here is the delegators list and we hope you will give your continuous support for us.
We welcome you all to support the community curator account with your generous delegations.

Delegation Reward Distribution
As we promised, we are going to distribute delegation rewards for our generous delegator. For this week, We got 71.6 SP as our curation reward. This is the highest curation reward we got so far. We have to distribute 50% of the curation reward this week.

Last 7 Days Curation SP
Here is the expectation curation reward for next week.

Expected Rewards for Next Week
You can see the calculation for the delegation reward below. Since the recent new delegators delegated their SP within the last 3 days we will consider them from the next week.
If you have any questions regarding the Calculation please refer to this:
Steem Sri Lanka Delegation and Curation Profit Return Process
We have already distributed your reward. Thank you for your contribution.


Power Up Thursday
We have already announced our plan for Every Thursday. The reason why we have 1 post with 50%SBD/50% SP, we want to pay the Delegation rewards to our generous Delegators. So after paying their delegation rewards, we will power up all the remaining Steem which are from the 50%/50% post and comments every Thursday.

WE ARE STEEM SRILANKA COMMUNITY
Thanks @steemcurator01 and The Steemit team for the continuous support and keeping trust on SSL Community.