Assalamualaikum friends, Hope everyone is well. I am @kawsar from Bangladesh. Today steem Bangladesh community top post topic food .So today I have made a post about food. Today, I have shared a different haluya recipe. I hope you like this recipe.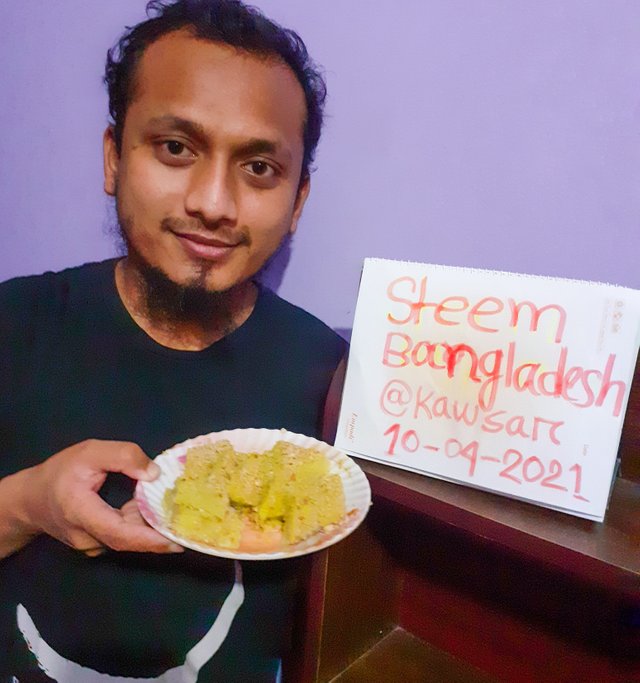 Delicious egg milk haluya
✔Ingredients that will be needed to make this recipe:
1 cup sugar
1 cup powdered milk
2 cap liquid milk
3 eggs
3 pieces cinnamon
2 cardamom
2 tablespoons nuts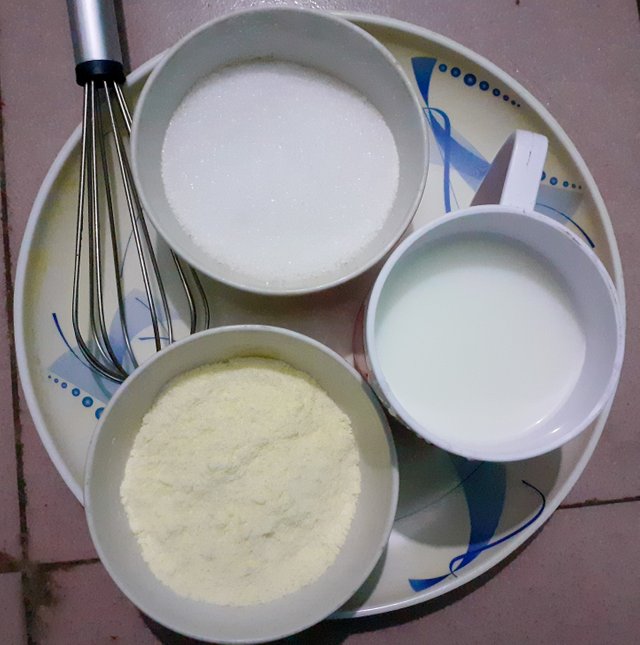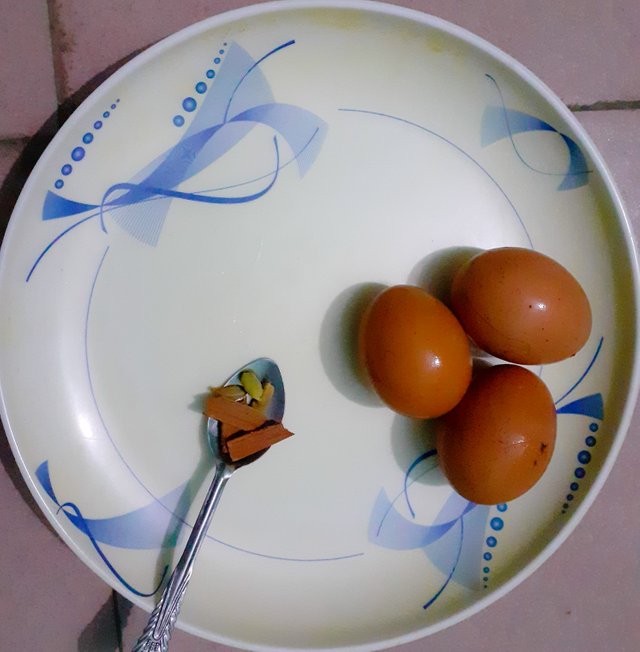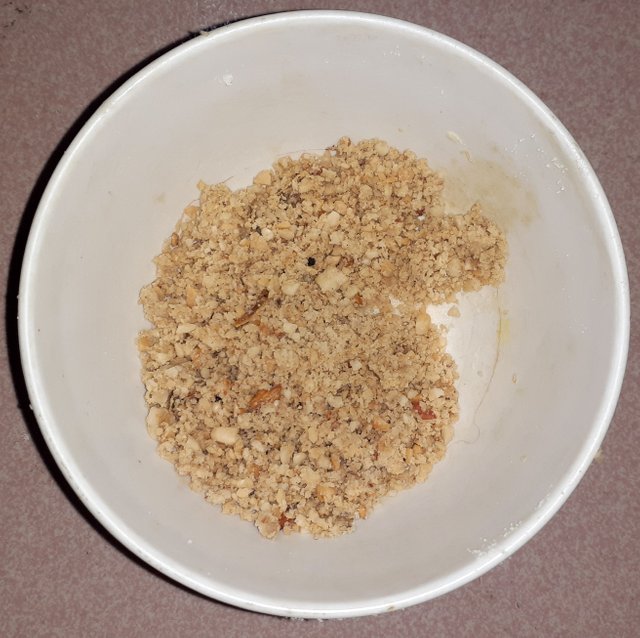 ---
---
Making process:
Step - 1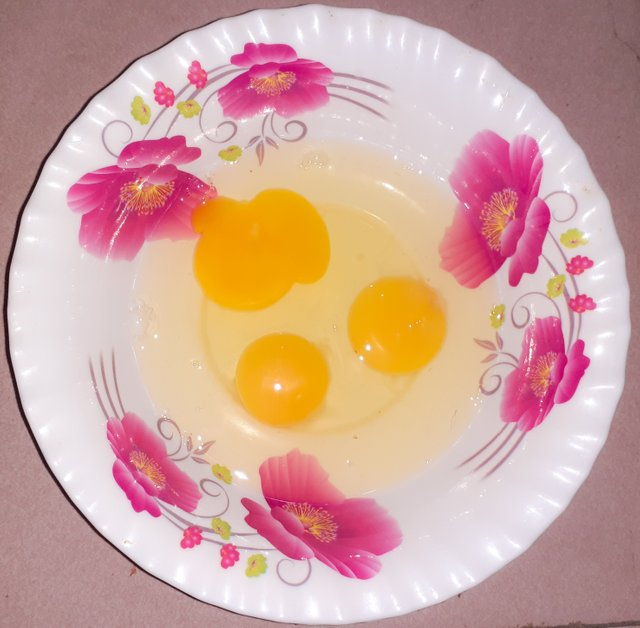 To make this delicious egg milk recipe, you must first break three eggs in a bowl. If the eggs are in the fridge, they must be taken out at least 30 minutes in advance.
---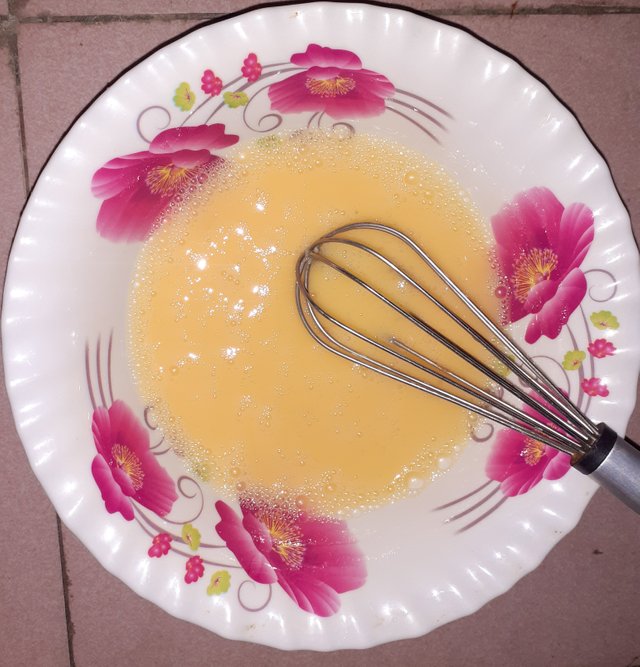 The three eggs that will be broken in the bowl should be beaten very well in such a way that they do not have any launches inside if they are not beaten well but this recipe will not be good so make sure that the yolk and white part are well mixed.
---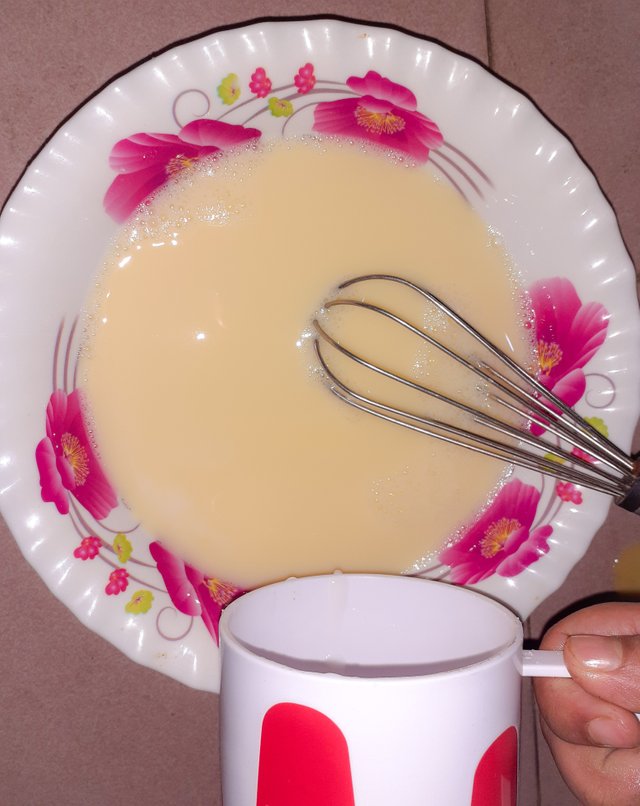 When it is well mixed, add two cups of liquid milk inside it. It may take at least 10 minutes to mix the eggs. If you don't mix it for a while, it will not mix well. Then add milk and mix it very well again.
---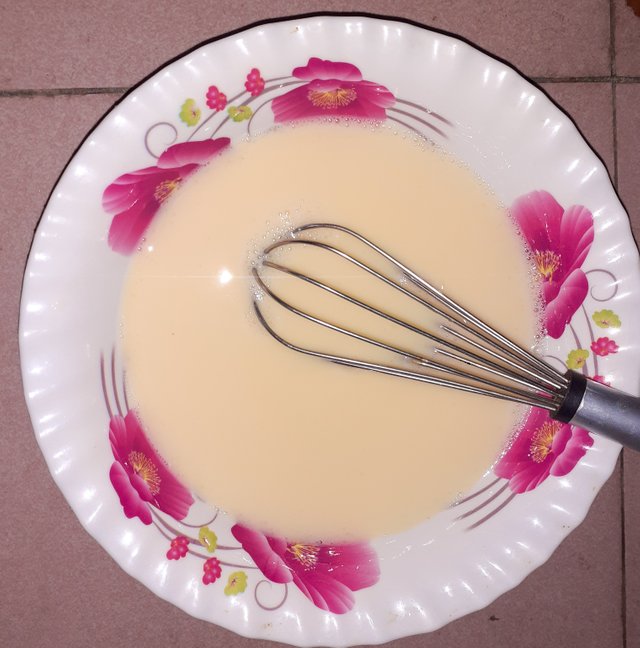 One thing to keep in mind is to mix the egg mixture well with the milk. This recipe will be more flavorful and more delicious only if you are careful about mixing. If you can't mix well, then this recipe will not be good, but you may feel bad, so make sure that the eggs and milk are well mixed, take more time to mix this mixer.
---
---
Step - 2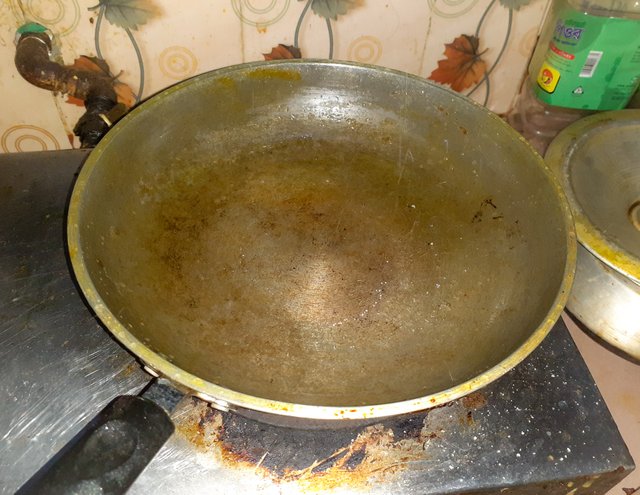 At this stage, put a pan in the oven and put 2 teaspoons of ghee in this pan. If you do not have ghee on your hands, you can use two tablespoons of oil, the same oil that you use in cooking every day, but if you give ghee, try to use it because it does not have the smell of eggs.
---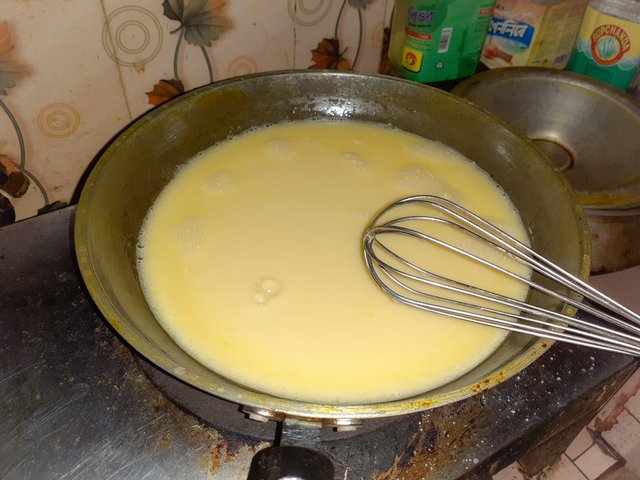 Then you have to put the mixture of eggs and milk in the pan. When you put it in the oven, you have to keep the oven down completely. It will not taste good, so make sure that the stove is kept warm and keep stirring when you give this mixture of milk and eggs.
---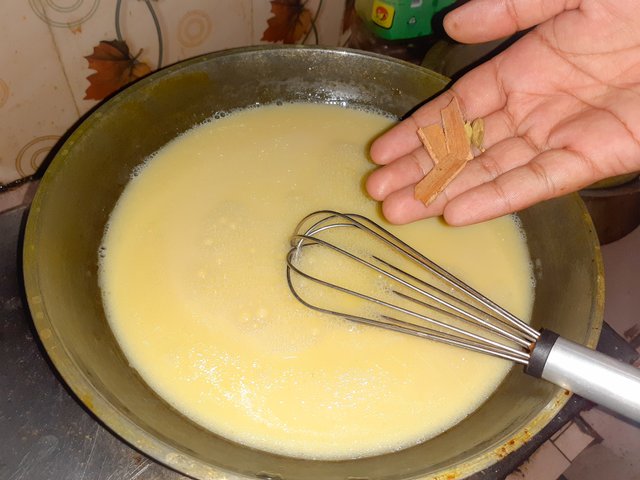 Now you have to put three pieces of cinnamon and two pieces of cardamom in this mixture of milk and eggs. The reason is that if you put these spices in it, the smell of the egg will not be the same as it used to be. So try to give them if you do not have them, you can use any kind of spice.
---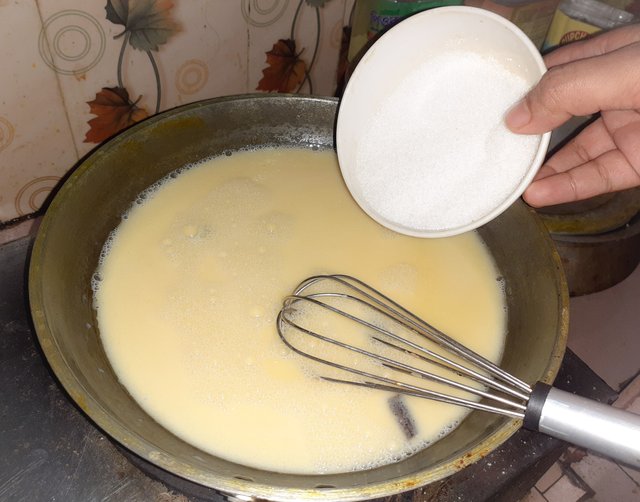 Stir after adding spices to this mixture. One thing to keep in mind all the time but always keep it on the move. Never stop until it is ready. At this stage, you have to put sugar inside it. You have to give it completely and keep stirring again till the sugar melts.
---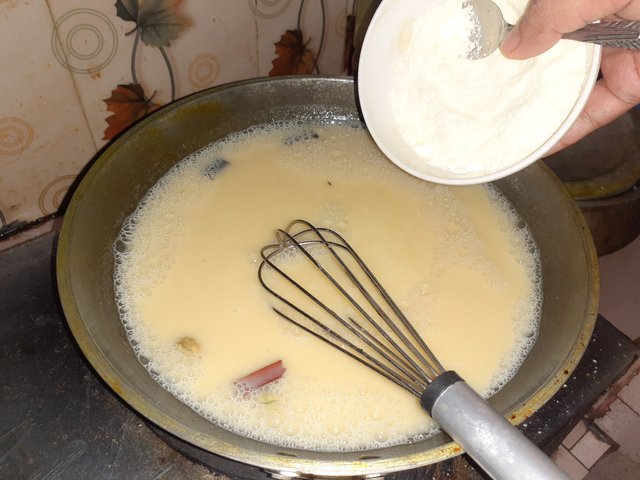 After adding sugar, you have to add powdered milk in it. If you can't add powdered milk at all, then lunch can be created again, so you have to add it little by little. Add one cup of powdered milk and stir constantly.
---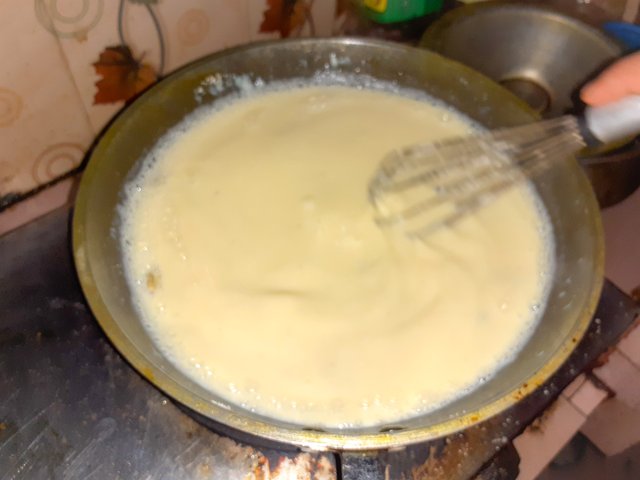 Once you add the sugar and powdered milk inside this Egypt, you will feel that it is getting thicker, but if you do this, it will not be too late. You will realize that it is ready now, but it will not.
---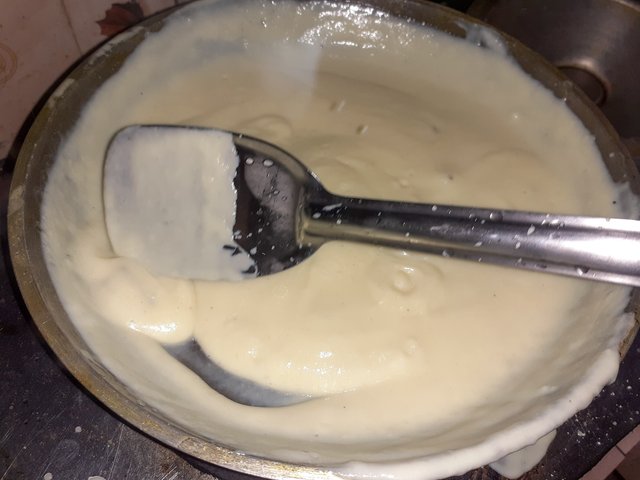 Then again after 10 minutes of stirring you will see that it is getting thicker but it will not happen. You may have to stir for about 10 to 15 more minutes but one thing to remember It may stick to the bottom of the pan but it will not be delicious to eat.
---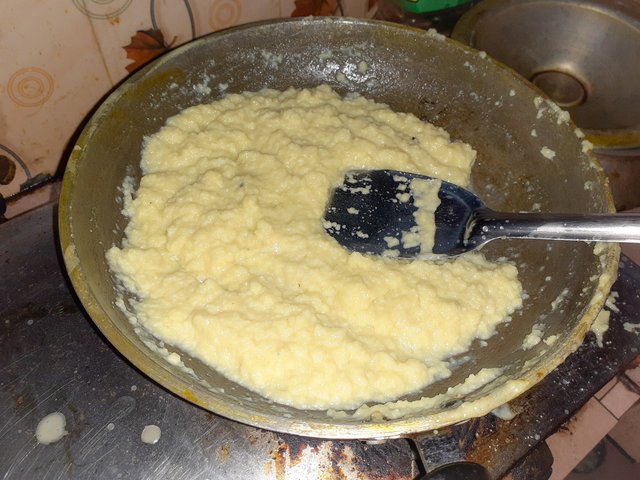 When the concentration of this mixture is like this, you have to understand that it is ready, it means that it cannot be dried too much, but it cannot be thinned again. You must know exactly what the density will be because it looks absolutely fresh, when this happens you have to turn the stove off and down.
---
---
Step - 3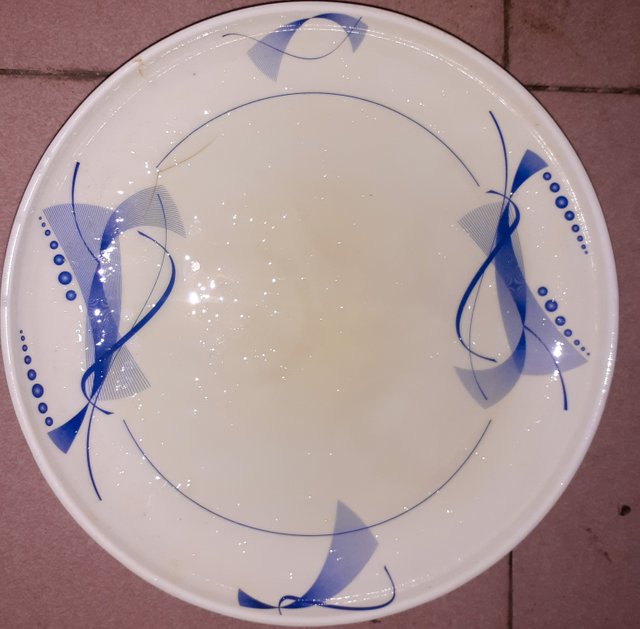 Now that the mixture is ready, now I have to make the bowl in which I will pour the mixture. I have taken a pellet here and brushed it well with a table-spoon of oil. The reason for giving oil is that this pudding will come off very easily when it is cut.
---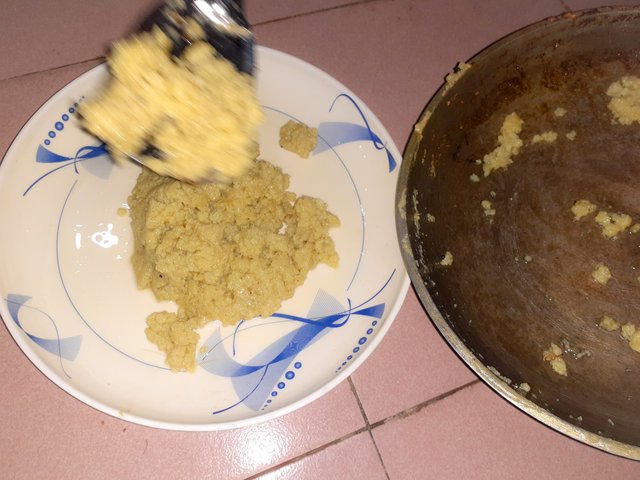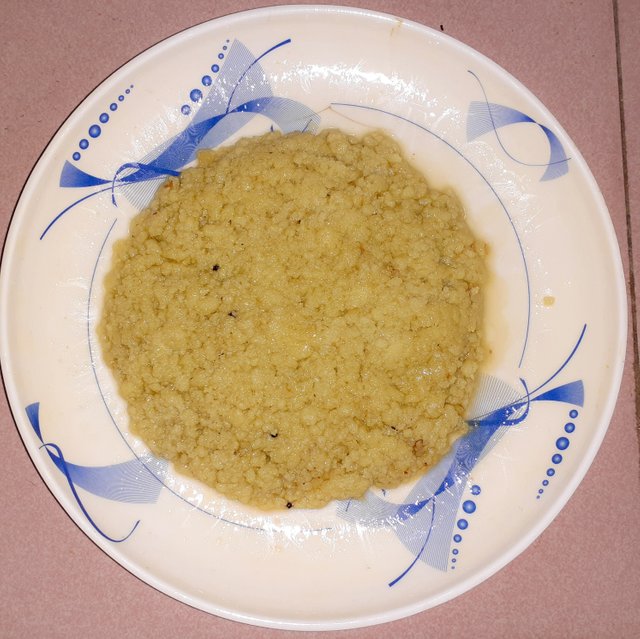 Then take the mixture out of the oven and pour it on the plate. It should be poured in hot condition and this mixture should be set in hot condition if it gets cold but it will not set well and will not be well made so set it on this rainy wet night while it is hot
---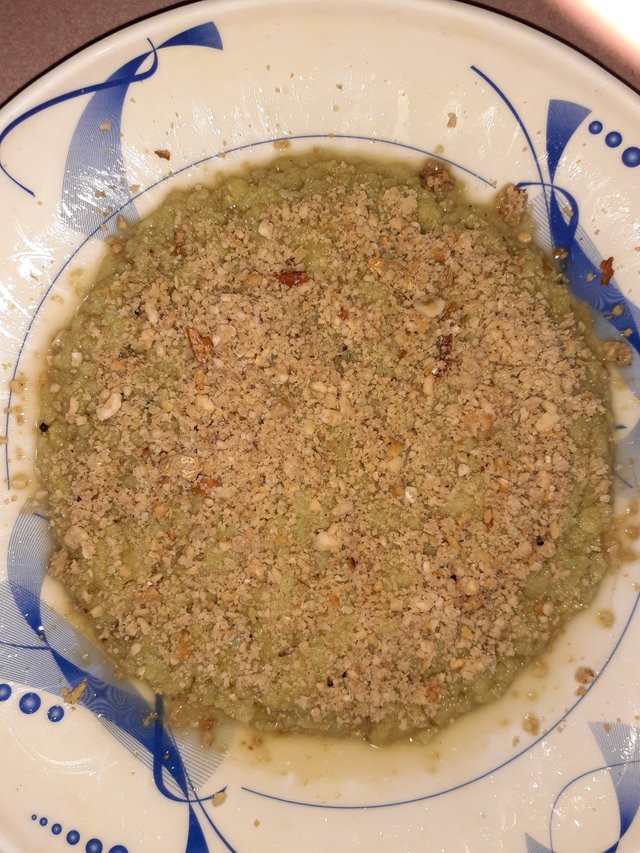 Once the mixture is well set on the plate, you can grate some nuts on it if you want to avoid it, but if you like to eat nuts, you can grate any kind of nuts on it to enhance the beauty.
---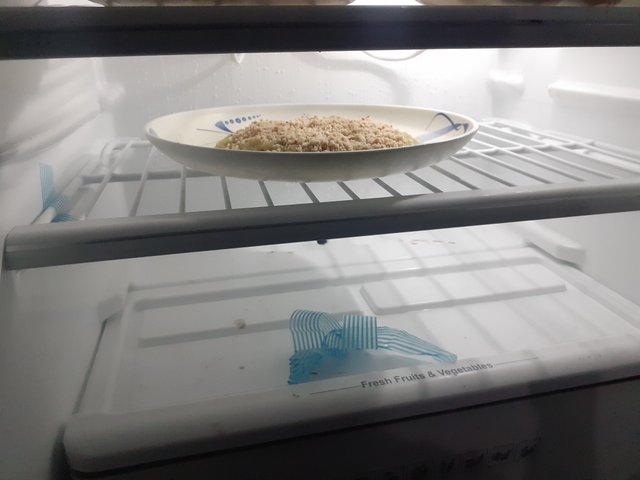 Then when this egg and milk pudding is slightly cold, keep it in the fridge for at least 30 minutes, then serve it in the fridge because if you don't keep it in the fridge, it may not be well-headed, so try to keep it in the fridge for at least 30 minutes. If you have time, you can do more because it will be more tasty
---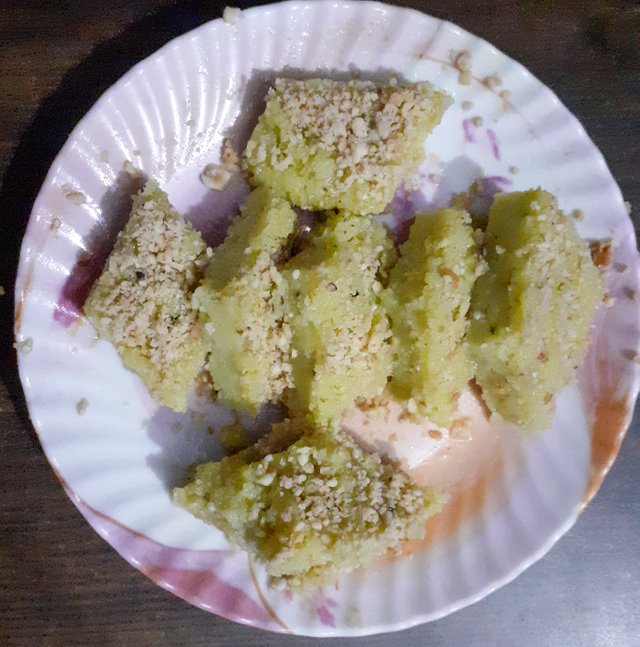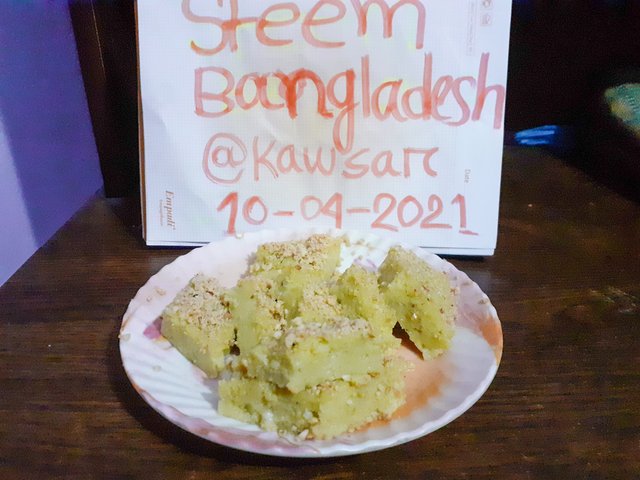 After 30 minutes, check it out to see if it is set well. You can cut it into squares and serve. It is very tasty to eat. We usually always eat semolina haluya, boot haluya but we eat less haluya so try it at home at least once.
---
---
THANKS EVERYONE
@kawsar