How you like these Fractals?
If bitcoin repeats the same pattern we saw the last time it had a significant correction, where it dropped from about $42k to $29k, bitcoin is going to go a lot higher on this next move.
There are these things called fractals in markets where you basically take a snapshot of prior trading activity and overlay that to current trading activity, and sometimes they play out in a very similar way.
Fractals sometimes repeat and sometimes they don't.
So far, bitcoin is setting up a similar pattern to what we saw back in January during that consolidation.
Sees: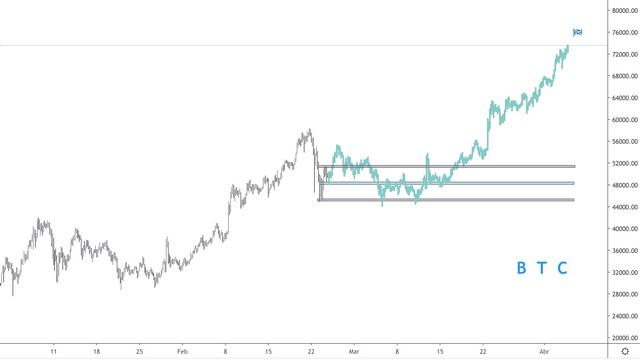 (Source: https://twitter.com/AnderFerO/status/1364624328462110724/photo/1)
If this were to play out again, we are going to see another test or two of the lows and possibly get as low as about $44k before we turn back up.
Then from there we would peak around $73k after the breakout from the consolidation.
While I think this could absolutely play out, the thing I don't like about it is that if that is the peak for this next cycle, it's not even 100% from the lows.
The last top happened 100% higher than the lows, $29k to $58k.
If we bottom around $44k, I would think $88k seems more like than JUST $73k.
Fractals are nice but they don't always play out exactly. Perhaps we just see the consolidation play out in similar fashion but the breakout ultimately takes us higher than that $73k target.
We shall see.