Everyone is calling for $40k, which is why I don't think it will happen
With everyone looking at the charts and those 30% pullbacks and where we topped out previously and that $40k number looks very juicy.
Everyone is talking about that number and talking about buying bitcoin there.
For that exact reason, I don't think it's going to hit.
Markets love to inflict the most amount of pain on the largest number of people as possible. They don't actually mean to, it's just the way markets and price tend to work.
What everyone is positioned for rarely happens.
Therefore, I'm calling the bottom here around $44k-$45k which is the same level I called previously.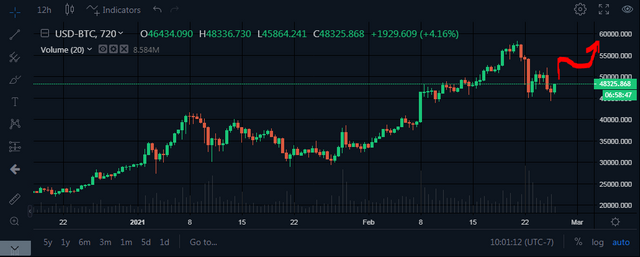 (Source: https://bittrex.com/Market/Index?MarketName=USD-BTC)
We probably have a few weeks of chop ahead of us still but I could see us not going much lower than we already have.
Hopefully the freak out in the stock markets is mostly behind us and if it is we probably going to grind higher.
Did you buy the dip?
I bought a few things, so hopefully my thoughts here are correct.
That $50k number seems to be a magnate to me where the price will try and stay above with institutions buying there.