Greetings friends of Steemit.
Time is passing quickly, and we have already passed the month of January to give way to a February full of many expectations, starting with the value of Steem which has been favored in the market reaching $0.22 at the time of closing this report.
This week has been a good period, we have had the opportunity to receive good news with the announcement of the communities that will be supported by Booming, as well as the new curators to whom we must wish the best during their tenure.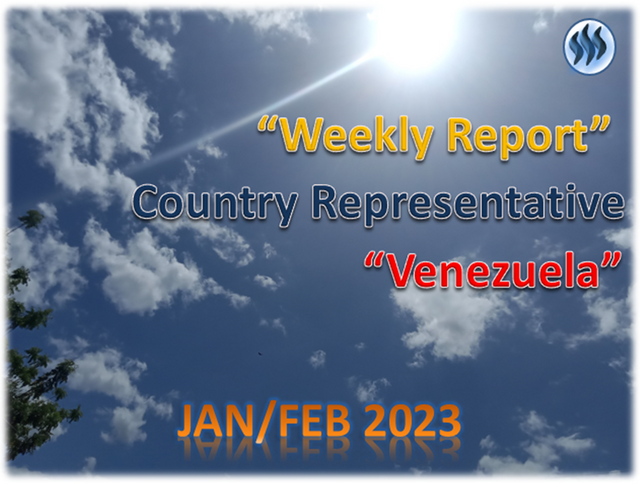 In particular, I can say that it has been a few days of good activity in which I was able to fulfill my commitments and responsibilities.
Below is the performance in the last week of January and the beginning of February, showing a good level of activity and support on the platform.
| Activity | | Activity |
| --- | --- | --- |
| Welcome new users and guide them in the operation of the platform. | | Support in the verification and validation of Newcomers community achievements. |
| Invite users to complete the achievements of the Newcomers community. | | Invite users to follow the main account @steemitblog. |
| Support in the curatorship with the account @hive-193637 of the #SteemVenezuela community. | | Support users in clarifying doubts about some topics related to the operation of the Steemit platform through the "Talkchannel" conversation channel. |
| Support good quality publications. | | Verify the existence of plagiarism of content in the publications visited. |
| Recruit new users and encourage them to remain active on the platform. | | Verify and provide guidance on the current status of users in #club5050, #club75 and #club100. |
| Reviewing accounts that incur spam postings. | | Follow up on suspicious and farming accounts. |
| Review and support participations in the #sv-escritura dynamic. | | Support in the curation with the Steemcurator03 account "Team Millionaire. |
The following is my performance during this period, as the representative of Venezuela in Steemit.
From January 28th to February 3rd, I have continued visiting publications of new users and leaving welcome messages to new users, in addition to performing the corresponding reviews to validate the authenticity of the information they provide, during this period I have managed to validate an achievement, on the other hand, I have been able to detect a user with suspicious content.
Below is a general summary, where you can see the number of users served, including those supported with the SC03 account, during this time.
| Description | N° Of Post |
| --- | --- |
| Publication Curation Steemcurator03 | 17 |
| Welcome (W) | 01 |
| Achievements Attended(L1- L6) | 01 |
| Support for completion of achievements (S) | 00 |
| Plagiarism cases (P)/ Abuse (A) | 04 |
| Farming Cases / Suspicious Account (S/A) / SPAM | 01 |
| Fake Account (F/A) / Phishing / Alert | 00 |
I present the behavior and performance of the @adeljose account, from January 28th to February 3rd, according to the tool Steemyy, i managed to support a total of 138 users..
| | VOTE | COMMENT |
| --- | --- | --- |
| TOTAL | 282 | 142 |
| DAILY AVERAGE | 40 | 20 |
This data was extracted thanks to the #SteemWorld application created by steemchiller
Support Channel.
Every Monday I open a new space where I invite users to share their ideas, opinions and concerns, in order to generate an exchange of knowledge and points of view, in addition, we provide advice if necessary. This week we talked about the preference that users may have on the themes of the contests, and their participation in them.
Here are some active publications during this week.

GROWTH ON THE PLATFORM:
In terms of growth, during this fourth period of January I managed to increase 86 Steem Power originated as rewards from my 12 shared publications.
| 04/12/22 to 04/02/23 | POWER UP | WITHDRAWAL | % |
| --- | --- | --- | --- |
| STEEM | 1339,56 | 380,90 | 77,86 |

This has been part of my performance during this period as a user and representative of Venezuela.
I hope to continue improving and providing more support to all those who are part of our Steemit platform.
I invite you to follow the accounts @steemesp, @steemeng, @steem.ind on Facebook and Instagram
I am grateful for the support and trust given to me by the team of @steemitblog and steemcurator01, as well as the support given to me by my colleagues tocho2, inspiracion, wilmer1988, albenis, graceleon and pelon53.
I say goodbye until a new opportunity.