Hello, team. I'm glad to return for the week to give a report of my activities on the platform throughout the previous week. This would be my first report of February with some days shared with the previous month. Let me dive into it.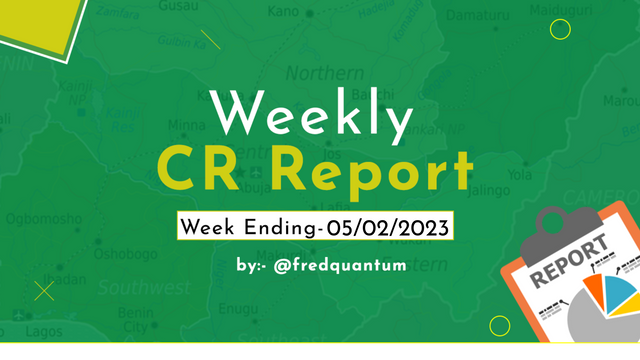 I have not lagged during the previous week as regards community duties as such I have been active all week round as an Admin/MOD and a user in other communities where I am not a member of the team. I will give a list below.
Verification of articles in the Steem4Nigeria community and the Steemit Crypto Academy.

Performing the role of a curator using the Steem4Nigeria curation account to reward publishers in the community.

My role over the week also involved the selection of articles for booming support on a day of the week and preparing a new sheet for the community to take proper records of our selections like we used to.

I helped some new and returning users from Nigeria whose achievement posts have remained unverified for some time to get verification by connecting with the authorities in the Newcomers' community.

Participation in a few engagement challenge contests and interaction with other users across the platform.

Performing the duty of a community curator using the SC03 account to support contests on the platform, this happens during the midweek.
In addition, I have published the new Academy's contest for the new week under the Steemit engagement challenge.
My contests on the platform also continued and I took time to verify all the entries made into the Learn with STEEM contest. Unfortunately, there was a record of plagiarism from a PDF resource and the user who was involved was adequately corrected to stop the act and ensure publishing original content on the platform. Below are the links to my contests

Over the previous week, I have adequately supported users across the platform using my Steem power and as a CR from Nigeria, I give support more to Nigerians to keep them more encouraged in the quest to promote the activeness of Steemians in this part of the world.
| Basis | Result |
| --- | --- |
| Club Status | #club100 |
| Owned SP | 27,142 SP |
| Reputation Score | 76.02 |
| Voting CSI | 13.0 ( 0.00 % self, 132 upvotes, 74 accounts, last 7d ) |
| Power Up/Transfer Out (7 days) | 51.163 STEEM (21 SP as Contest Rewards) / 0 STEEM |

In conclusion, this is my report for the week which has been utilized to show some of my activities over the last week, supporting newbies and existing users, involving in community affairs, and so on. I look forward to a great week ahead. Thank you.