Hello Everyone. I am @msharif
From #Bangladesh

Weekly Report as Country Representative of Bangladesh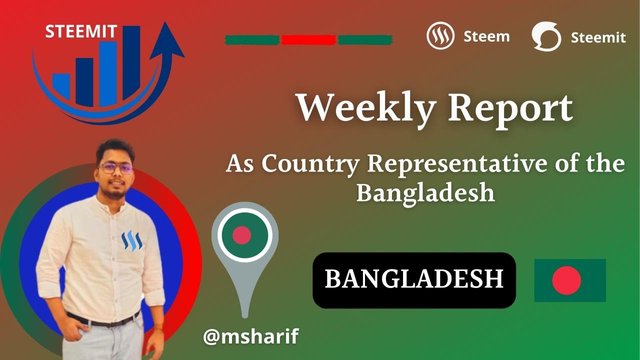 Made From
How are you all? As a country representative of Bangladesh, I am submitting my last week's activities in report form through this post. I think this is a great opportunity for me. I have tried to properly fulfill all the responsibilities assigned to me as a country representative.
---
---
I always try to increase my steem power. So i do 21.921 STEEM power up in last week and i do almost every one of my posts set 100% power up so all rewards add up to my steem power.
I think increasing steem power means increasing one's ability. And I am currently associated with the #club100.
I turn all my income into power. So currently I have so much 36,885.87 steem. Now my total Effective Power 38,538.26 SP
---
---
Support and Guidelines for Bangladeshi users
As an admin and curator of the Steem For Bangladesh community, I have created a Weekly Report as Steem For Bangladesh Curator - Period January 28 to February 03, 2023 of the amount of support given to all users from the community account @steem4bangladesh in the last week.
I think by this users will increase the activity in the community and they will know everything that happened in the community in a week.
---
Free 200 steem Delegation Project is Open for all countries' new member [Month of February]
I have already delegated two users @shathi and @ismotara 400 STEEM.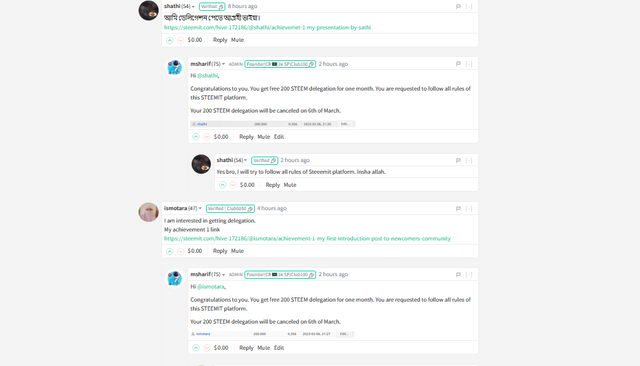 ---
---
We have created a post that created a list of all the support users I have provided in a week on behalf of the Steem for Bangladesh community in booming.
---
---
My Steem Growth Activites
---
I have made a post where I have details about all the Bangladeshi users' power up for the entire month.
---
I have announced the winners of The three best and three worst moments of your life. contest.
---
I write a post where I wrote some guidelines on booming support for all Steem for Bangladesh community users.
---
As a member of curation team 2. I translate the main guideline post for all Bangladeshi users for their understanding of the details of the guidelines.
---
---
My Job as a curator of steemcurator06 and steemcurator05
On Tuesday, I curated more than 22 posts and some comments who are from different countries and different communities and outside the community by using steemcurator06 account.
And On Sunday, I curated more than 20 posts and some comments who are from different countries and different communities and outside the community by using steemcurator05 account. I have tried to maintain harmony and support everyone properly.
---
---
As a Bangladeshi country representative, it is my responsibility to provide support to the users of Bangladesh, which I always try to do. I try to support the users of this platform with all my steem power. In my last week, I gave 107 upvotes to 77 accounts and my Voting CSI is 15.3. I will try to maintain my consistency so that I can support everyone.
---
---
Summary of my steemexclusive activity:
| No. | Post Name | Number of Post |
| --- | --- | --- |
| 01 | The Diary Game | 01 |
| 02 | Weekly Curation Report | 01 |
| 03 | Steem Growth | 04 |
| 04 | Contest Result | 01 |
| 05 | Steem engagement challenge | 03 |
| => | Total | 10 |
---
---
Best Regards,
@msharif
Country Representative, Bangladesh.
Thank you for reading my report post. Stay safe, stay happy