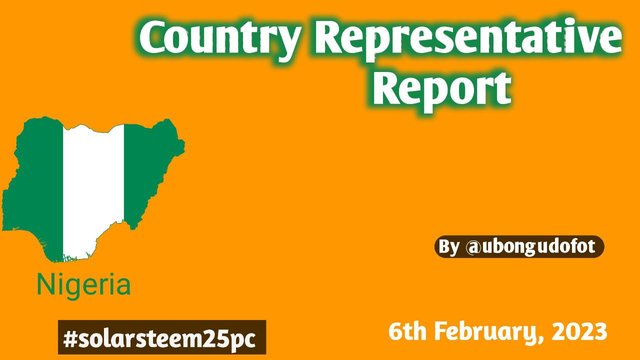 It's a new week, but it will be better if I rather mention some of the activities I carried out in the past 7 days..., Kindly take note of it below.
---
Here are some of my little contribution last week to the blog which includes the following:
Country Representative role for Nigeria
I supported Publications with my little Steem power, at least It can help such accounts to grow as well.
---
I made Some interesting publications on the blog as I enjoy them.
🟢I Published the Interview showcase which I featured Bangla.Witness developer @moh.arif from Bangladesh.Exclusive Talk with Bangla.Witness developer/Bangladesh Blogger
🟢 I published the second edition of the SteemTV YouTube channel...
U.S Navy Band Performed at University of Lagos - Nigeria!
🟢 As a means to enlighten users and most especially the Newcomers, I updated the list of active communities on Steem......Surviving communities for January,2023
---
---
Working with the SC04 account
Within the week, I used the SC04 account to curate and Vote for steemexclusive 23 different quality publications regardless of the hashtags. I fetch some interesting content from different countries and communities.
---
---
Working with WorldSmile team /Activities as World Smile leader for Nigeria
Presently the fundraising is ongoing and it's moving, It was even more interesting to see the growth last week as we were able to make 380 Steem in seven days, the total with the previous balance will Interest you, please read It below.
Though we still need more funds. A few friends are still supporting this with 25% of their post rewards to realize this fund.
👉WSP FINANCIAL REPORT - Account Income Progress - 5th Feb.2023
I keep supporting all the genuine and quality publications that set percentages to the smilenigeria account. For the past two months, I have set all my publications at 50% to support the solar steem project, I believe this will help to realize the project quickly.
---
---
Plans for the future
I will maintain my support for different genuine productive programs in the blog.

I will keep supporting many quality contents through upvoting and commenting which is the key way to communicate.

I will keep working hand in hand with the international world smile team in other to reach effective output in the STEEM solar project here in Nigeria and also support other countries with some meaningful and realistic projects
---
Thank you for reading my summary for last week, " Woosah!!"
---
---
---
---
Februrary 6th, 2022
@ubongudofot
Country Representative Nigeria