Hello friends, hope you are doing well. As you all know that vaccination drive is going on globally. Numerous centres have been functional globally to vaccinate beneficiaries. We have met with great success in vaccinating target population. But with recent rumours, younger generation is reluctant to undergo vaccination despite repeated reminders and efforts to clear misconceptions. To further hasten the process, mobile vaccination teams have been made to mop up. Today i was supposed to supervise one such team catering to my hometown.
After getting up early in the morning, i freshened up, had breakfast, dressed up and headed towsrds duty. Today I was having no mood of attending duty but.... Finally i headed towards the spot. Our field staff had identified one spot and mobilied ASHAs who mobilized people and brougt them to the spots for vaccination.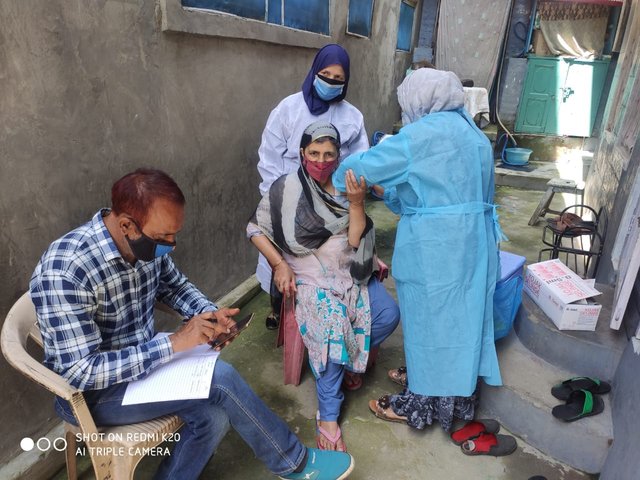 Our field staff at work
Basically it is not door to door vaccination, although it can be broadly called so. Finally, i directed them to do vaccination at identified spot ( school in our case) till 2 pm only. After that, they should viisit houses having senior citizens, differently abled persons, bed ridden patients and get them vaccinated within their homes. Thankfully they did so and as per recent information, they have done 27 doses of home vaccination of the persons falling under above categories. Overall, i had a wonderful team to supercise.
Finally i came back home by 6 pm, took tea and than i tried to took a nap for a while. While i was about to fall asleep, my mom knocked my door and entered along with one lady who was carrying a kid in her lap for consultation. After consulting they went away to our kitchen. She was our old neighbor. They disturbed my sleep. So i woke up and went to see my grandmother. Than i came back and talked to my sister and updated her fb page. By than my friend called me and we discussed about one patient. Than i went for dinner and now j am writing this diary.
Thanks