Hey guys. Just a quick update on the whole vaccine situation here in Karnataka. The state government just announced that they will not be issuing vaccines to citizens under 45 years from May 14th onwards. So, even though you had booked your slot, you will n to be getting the vaccine. Once everyone above 45 receives their second dose the vaccination might be open to people above the age of 18. Since we won't be protected by the vaccine, we need to stay extra safe.
Let me now get into my daily activities.
Morning:


This screenshot was taken at around 6 PM in the evening. I'm sure that there are more updates now
In the morning I woke up at 7 AM and read a few posts on steemit and also checked the affable tool. We currently have over 182 participants, which is great. Keep the engagement going, guys!
While I was busy with this, I forgot to prepare food for Cooper. So, I asked my dad to cook rice and I took Cooper for his daily walk. Since our walks now last just 30 minutes, it isn't enough for the rice to cool down. So, I called up my sister and took Cooper over there.
This was Cooper's longest walk yet. He was such a good boy when other stray dogs came barking. At my sister's house, he was extremely happy to see both my sister and my mom. His excitement rose even higher when he got various treats.
Since I went to my sister's house, they had cooked upma for me as well and forced me to have my breakfast over there itself. Unlike my house when I can put Cooper in a room and then have my breakfast, I can't do that at my sister's house. So, we made him sit in the hall itself and I had my breakfast.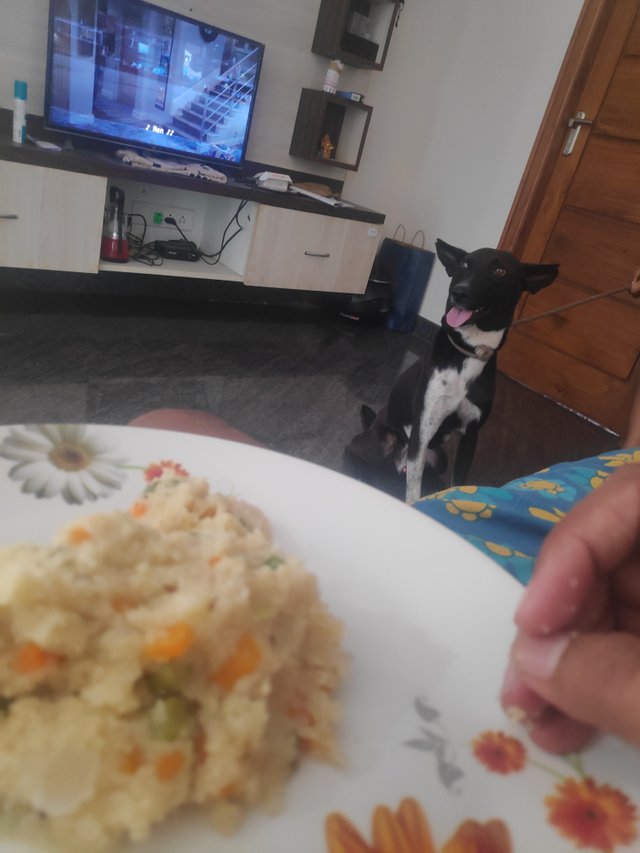 Look at how innocent Cooper looks in this picture
Look at the puppy eyes that he is using to coax me into feeding him some from my plate.
At 9:30 AM I packed some sambhar for noon and started my journey back home. The walk is 3 KMS one way so, in the summer sun, the way back was much harder than what I had anticipated.
By the time I got home, it was 10 AM. I gave cooper a little rice and water to drink on coming back. I then went on to attend my morning standup and pick up the tasks that were assigned to me.
Noon:
In the noon I had rice and the sambhar that I had got from my sister's house. Since we were mostly ordering food very often at noon, this was a welcoming change for both me and my dad.
After lunch, I was involved in a few discussions and code reviews at work.
Evening and Night:
In the evening I had Kellogg's chocos for snacks. Since I did not have it in the morning, I had it in the evening. I then got back to work.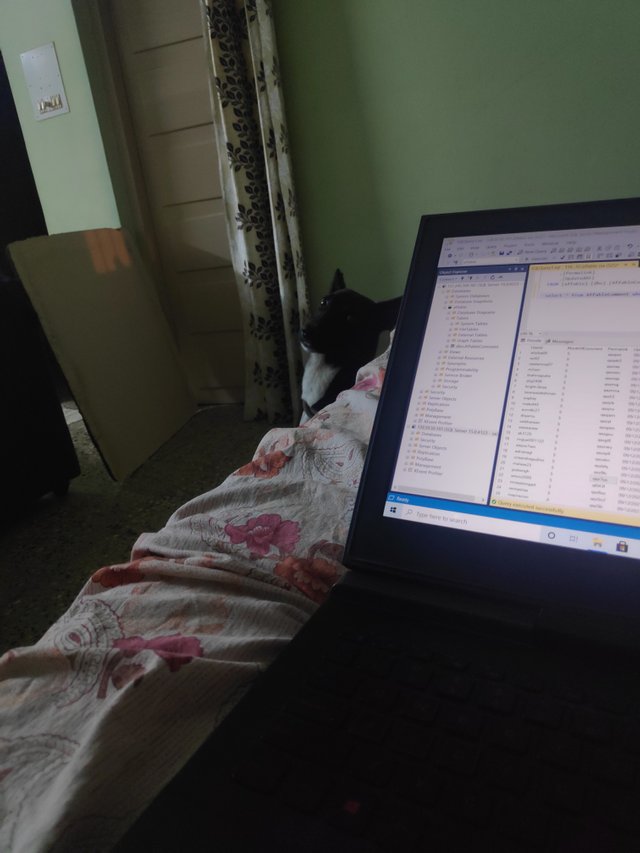 Cooper's famous stink eye when I don't play with him
At 6 PM it started to rain very heavily over here. So, we had a power outage and I logged out of work. The power did come back within an hour. However, I decided to call it a day at work and started to work on the tools for steemit. While I was doing this, Cooper started to give me the stink eye for not playing with him today.
I couldn't play because it was raining very heavily. Because of the rain, I also had to delay his dinner which I gave at 9 PM today. After this, I had my dinner at 9:30 PM. I then went on to get some power nap and when I woke up I decided to update my diary. I will now read a few posts on the BOI community and call it a day.