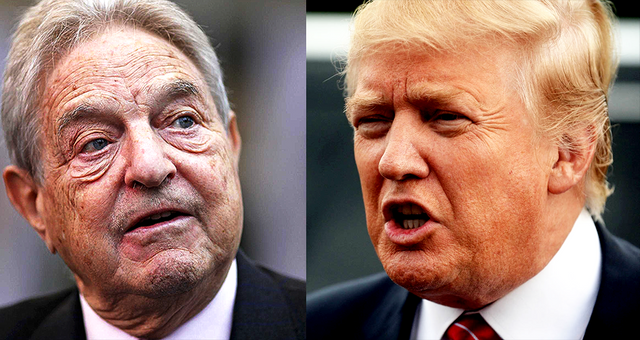 George Soros has been running America since who knows for how long, as a destructive billionaire however, he has never taken the time to actually run for president himself, that position is below him and why even bother when you have a small army of sock-puppets to do the job for you?
Profit is profit - Either you create value or you destroy value
Some people make money going LONG, Invest and build nice things. Others make money going SHORT, make money when the markets crashes and care nothing about the social consequences for the everyday people. And George Soros is the latter, however he is not your "everyday people" - he is a convicted felon in France, he has destroyed economies and countries by manipulation before and up until recently he had his grip on America, but the nation woke up just in a nick of time to save their republic.


If you were born after 2001 you have seen nothing but war, moral decline and corruption
Yes, we had a nice bubble before it burst in 2008 and created the biggest recession since the great depression. Hyper-inflation, stocks were good, dividend were great - until it was not.
Soros made his billions over the years by manipulating the dollar market, and actually caused the crash of an Eastern European nation. He made hundreds of billions by shorting the Pound in England and then driving it down, almost crashing England at the time. Soros made hundreds of millions betting against the Greek economy and helped it crash read more
Soros is an endless train-wreck of failed states and failed economies that he with his network of sock-puppets in high places have been able to destroy viciously from his offshore-companies not regulated by anybody - and he wants to keep it that way.
Is it really that easy to f*ck up the world? Yes!
If you have enough capital at your disposal, you can practically do whatever you want on the market. At the moment George Soros is reported to sit on 4 million S&P500 Shares short - if you are not a trader this makes no sense to you - but in round numbers - He is about 8 Billion dollars invested in the collapse of the US Stock-Market, and that is no conspiracy-theory.
So forget about Red-States and Blue-States, as I have stated before - Politics does not exist - Power-Consolidation however does exist, but instead of a Billionaire behind the scene as George Soros has been behind Obama, Bush and Bill Clinton in the past - You have Donald Trump now - In Front - and George Soros know that he cannot buy him off - they are not even the same type of billionaires.
Donald likes to build things - George likes to destroy things
So at the end of the day - the vote stood between going LONG on America or going SHORT on America, and since the people voted for the guy that likes to build things, well - guess what the guy who likes to destroy things did?
Yes, he really pay people $15/hour to protest "NotMyPresident" and he is using all of the non-profit organizations he has paid for over the years to do it for him in one hell of a recruitment to rapidly raise hell in the USA - and that is no conspiracy theory either.
The election is over - Trump won - What kind of horrible plans do you think Soros have in plans for him?
Now, here is the section for conspiracy-theories, and if you come up with something good - please share it in the comment field below. I have no idea what George Soros have planned for Donald Trump, but I have heard some suggestions that the Whitehouse could be rigged with nuclear weapons to detonate when Trump takes office - Others have suggested that he will be taken out by a sniper as was done with John F. Kennedy. Trump is definitely a target and should be taking extreme measures in his own security in Washington where he is surrounded by enemies with secret identities loyal to the beast that feeds them - George Soros.
Disclaimer: I am a Norwegian Viking who has travelled in 55 countries around the world and I have not voted in the US Presidential election nor any other political elections in the past. I don´t believe in politics, political systems or oppositional organizations who only serve as street, stage, radio, tv or internet-theater for the masses to protect the identity of the "true" power behind the power of government.