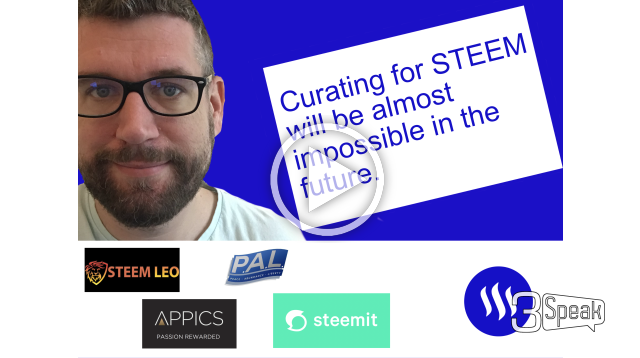 ---
Yesterday Appics came out with a new version of their app and it's now possible to earn APX tokens in the app as well as STEEM.
Earning different tokens on Steem is nothing new since the introduction of Steem-Engine.
But moving forward with the tokenization of the web (whether it's through Steem-Engine or SMT's or both) everything that is posted on the Steem blockchain will be eligible to earn STEEM as well as other tokens.
It doesn't matter whether this content is posted through a tribe like SteemLEO or PAL or an app like APPICS.
When APPICS becomes extremely successful and millions use the app, the Steem Blockchain will be flooded with thousands of posts of APPICS.
That is fine for the APPICS app. Because it only displays APPICS content and they have their own curators to distribute APX tokens.
But can you imagine what this will look like on Steemit.com? This frontend displays everything that's going on on the blockchain.
Not just APPICS content, also Steemit blog posts, Actifit rapport, Esteem, everything you do and everyone else does under their account.
Right now on Steem, it's still possible for curators to find content to vote for (with Steempower) through a frontend like Steemit.com or Steempeak even though it displays everything.
But what if millions start to post daily through all the different apps and frontends that will arise and one refresh on steemit.com will lead to hundreds of new posts to 'curate'.
It will be impossible to curate for a human. Too overwhelming. I think.
In this video, I show how it all ties in together.
---
▶️ 3Speak