Hey everyone - I'm back with the second update to the Steem Bot Tracker Website this week! Crazy right? Well, the last update was mostly a behind-the-scenes change, and I mentioned that some new cool user-facing features were coming soon. So here they are, I hope you like them!
Moved STEEM/SBD prices to the header
I moved the current STEEM and SBD prices to the fixed header of the page as you can see in the image below. This way they will always be visible no matter where you've scrolled on the page. I've also set them to show in green if the price is up over the last 24 hours and red if it's down. Let's hope we start seeing more green!

Additionally, it was pointed out to me that the red message box (the one with the important update about the fact that SBD prices are no longer near the intended $1 USD peg) where the prices used to be has a close button that doesn't work! My apologies about that - it works now, and you can feel free to get rid of it assuming you understand that values shown on steemit.com and other Steem front-end sites do not represent the actual USD value of the payout.
New "Actions" drop down for bid-based voting bots
The amount of columns in the bid-based voting bot table has been growing and growing and I needed to find a nice way to consolidate some things to make room for all the new things I would like to add. Most of you have probably already noticed that instead of separate buttons for "details" and "send bid" they have been grouped into a new "Actions" drop down and a few new items have been added in there as well!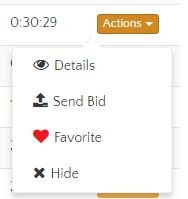 Before you say it - I know that it now takes two clicks to see the details instead of one! I have some ideas to change that in the near future, but for now you'll have to hit the gym and exercise your left-clicking finger a bit.
New Favorite and Hide Options
By now you've probably also noticed that there are some new things in the "Actions" drop down - Favorite, and Hide.
If you "hide" a bot it will completely remove it from the list so you never have to look at it's ugly face again! Hid a bot by accident? Don't worry - you'll see a message at the bottom of the bid-based voting bots table which will tell you how many bots have been hidden and give you an option to un-hide them.
Even better, though, you now have the ability to set certain bots as your "favorites". Favorited bots will always show at the top of the list, with a little separation between them and the rest of the pack.

Favorited bots will always show regardless of the filters you have set. That means that if you only want to see bots with a $100+ vote value, except for one smaller bot that you really like - you can favorite that smaller bot and it will show at the top of the list even though it's vote value is less than what you have set on the vote value slider.
Added minimum post age setting
You may have noticed in the above image (if you weren't too distracted by the awesomeness of the "favorites" feature) that what used to be the "Max Age" column has become the "Min / Max Age" column! Thanks to this columnal metamorphosis (I'm pretty sure that's a thing...) you can now see what the minimum age of a post is for which each bot will accept a bid.
The minimum age calculation will also include the time remaining until the bot's next round of voting begins, so that means if a bot only accepts posts created more than 20 minutes ago, you can still submit a bid for a post immediately after it's posted as long as it will be more than 20 minutes until the bot's next round of voting starts.
New setting for bot Rules / Terms of Service
Last, but not least, I have added a new setting to the Bot Owner Config tool where bot owners can specify a link to the rules / terms of service for their bot.

If a rules/ToS URL is specified in the bot configuration settings, then a "Terms of Service" item will show in the "Actions" drop down for that bot in the bid-based voting bot list. Users can click on that to open the specified URL and read the rules/terms of service for that bot if they so choose before deciding whether or not to send in a bid.
Thanks for your support!
As always I want to thank everyone who has helped and supported me in creating this tool. I love that it has been able to help so many people learn about and use vote selling services to promote their content and grow their following and earnings on the Steem platform. If you have a suggestion or feature request I encourage you to submit an issue on the GitHub repo for the project. Please stay tuned for more updates in the coming weeks!
Links to relevant commits:
---
Posted on Utopian.io - Rewarding Open Source Contributors
---